Pressure Washing Enhances Moyock Commercial Properties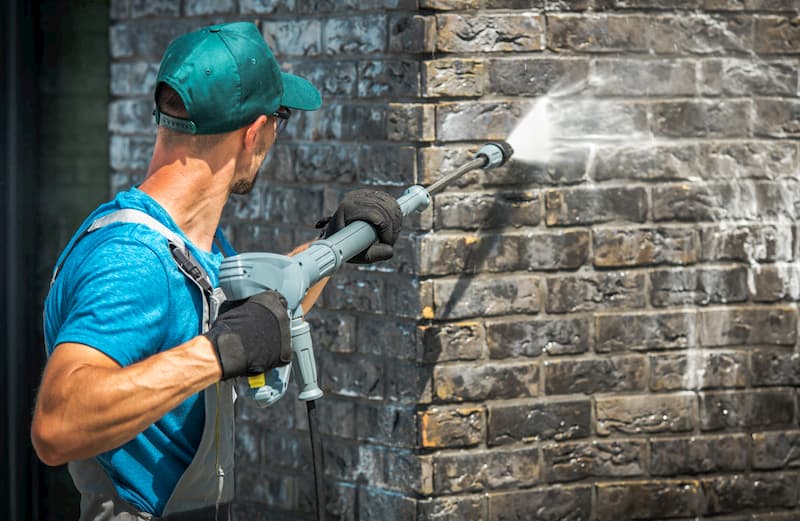 Whether you own a market in Moyock, a chain restaurant in Chesapeake, or a service station in Southern Shores, when you trust your exterior surfaces to a Moyock pressure washing professional like the pros at Mid Atlantic Wash Pros, you're sure to see a number of benefits. I operate our veteran-owned pressure washing business in the Moyock area, and I love being able to take exterior cleaning off of the "to-do" list for property managers, business owners, and others who have more important things to do with their time.
Let's take a look at the ways that commercial pressure washing can benefit your Moyock area property.
Great First Impressions
Pressure washing services like driveway cleaning, sidewalk cleaning, and parking lot washing are a great way to create a welcoming appeal and a great first impression for your business. Whether you have concrete, brick, pavers, or exposed aggregate surfaces, a pressure washing professional will have the right equipment to remove dirt, grime, and other pollutants to give your surfaces a sparkling freshness.
An added bonus: By eliminating dangerous slip hazards like algae and automotive fluids, you enhance the safety of your pathways and other areas where patrons and staff walk!
Fuel The Freshness Of Your Gas Station
Convenience stores and gas stations present a number of challenges, but routine gas station cleaning can help you keep your clients happy and will fuel the fresh appeal of your Moyock area business. Creating welcoming entryways, eliminating slippery stains, and removing environmental pollutants will have your customers pumped up and ready to do business.
An added bonus: We use eco-friendly cleaning products that are safe for the environment!
Sparkling Storefronts
Unsightly stains and grimy buildup isn't inviting, but routine storefront cleaning will eliminate the grungy contaminants that detract from the appeal of your storefront. When you want to send a clear message that what you have to offer on the inside is worthwhile, then make sure that the outside of your Moyock business looks like you mean business!
An added bonus: Hiring a professional for storefront cleaning frees up valuable employee time!
The Court Of Public Opinion
Whether you offer basketball courts for outdoor exercise at a local school, tennis courts for your guests at the club, or a pool deck oasis at your high-end hotel, regular TLC in the form of sports court cleaning will help you offer recreation like you mean business and win over the court of public opinion. It's game-on when it comes to removing algae, allergens, and dirt from your outdoor playgrounds and recreational areas and a commercial pressure washing expert will serve up an ace, score a three-pointer, and make a splash with your patrons.
An added bonus: Our cleaning solutions won't harm surrounding plants, trees, or grass!
From Dumpy To Dazzling
Your dumpster pad, service bays, and loading areas are probably the last places you think about when it comes to having appealing exterior surfaces, but perhaps you should think again! Dumpster pad cleaning and other concrete cleaning services remove the grungy, gunky grime that collects on your dumpster pad and loading docks and give even your nastiest areas a renewed freshness.
An added bonus: Dumpster pad cleaning eliminates the waste materials that attract pests!
If you're looking for fast, reliable, quality commercial pressure washing services for your business or commercial property in the Moyock area, call the veteran-owned pressure washing specialists at Mid Atlantic Wash Pros today at 252-619-1307 or use our online form to schedule services.